NEW PRODUCT – Graptor
NEW PRODUCT
The Graptor provides the easiest way to comply with Australian Standards and mandatory gutter overflow requirements of the BCA with no slots required.
The NCC 2019, Part 3.5.2 details that overflow measures are required to prevent water entering or damaging a building even if the gutter and downpipe system is completely blocked. Graptor offers a fully compliant solution using a plain faced gutter profile that increases rainwater collection and is aesthetically pleasing.

Reduces downpipe requirements & saves costs.

Graptor is suitable for use with:
– Quad 115 High Front Gutter
– Quad 125 High Front Gutter
– Quad 150 High Front Gutter – QLD Only
– Skyline Gutter
– Big M Gutter – QLD Only


Suitable for metal and timber fascia

Clip-on to new builds – metal fascia

Screw fix for retrofit – metal and timber fascia
<h4>Check with your Metroll branch for availability</h4>
VIDEO: Introducing the Graptor Installation System
VIDEO: How to install the Graptor Gutter System
Concealed fix bracketing promotes clean, straight lines.
Independently tested and fully certified.
Quick, simple and cost effective.
Compatible with slotted gutter options
Product Specifications
Availability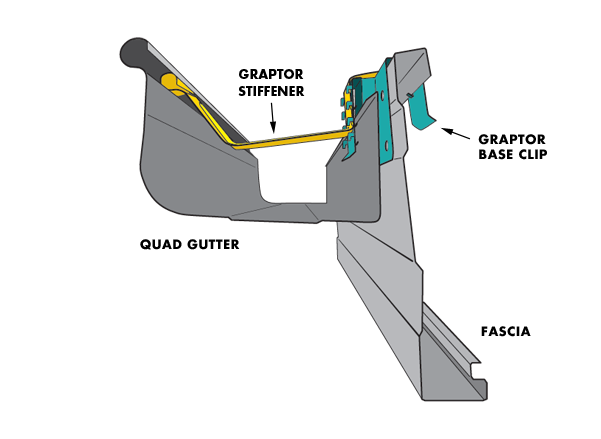 QLD NOTE** Available at Sunshine Coast, Toowoomba, Brisbane & Lismore branches only.